If you're an international taxpayer or non-resident alien, beware of a new twist on an old IRS scam where a fake IRS form is used to gather sensitive, personal information. Criminals are using a fake Form W-8BEN, Certificate of Foreign Status of Beneficial Owner for United States Tax Withholding and Reporting, in attempt to obtain detailed information from these taxpayers in order to gain access to their identity.
Here's how the scam works. The scammers mail or fax a letter to the taxpayer stating they need to authenticate their information via Form W-8BEN, even though these taxpayers are exempt from withholding and reporting income tax. The taxpayers are asked to fax the information back.
What's tricky about this particular scam is that Form W-8BEN is an actual tax form, however the scammers are using a fake version that asks for personal details that the real form does not, including mother's maiden name, passport number, and PIN codes. The letter that accompanies the fake Form W-8BEN also includes a Form W9095, which does not exist. It's also important to note that the IRS will not reach out directly to taxpayers requesting a Form W-8BEN. This process is typically done by withholding agents and financial institutions.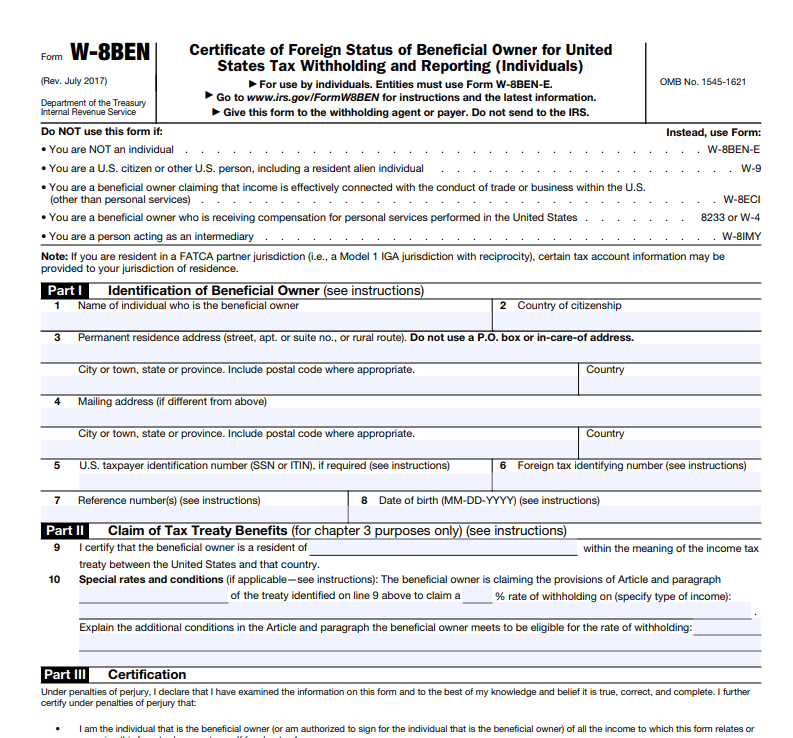 Actual Form W-8BEN from the IRS website.
Don't be a victim to any IRS scam. Remember, the IRS does not:
Demand a specific payment method, such as prepaid debit card, gift card, or wire transfer

Ask for debit or credit card numbers over the phone

Request personal information (PIN codes, passwords, etc.)

Threaten the use of local police, immigration officers, or other law enforcement

Demand immediate payment of back tax
Always be cautious of ever evolving IRS scams to protect yourself and your identity. If you have questions regarding an international tax need, contact us today for a complimentary consultation.
FOUND THIS USEFUL ? SHARE WITH