Five Stone Tax Advisers' Take on an Important Tax-Related Article: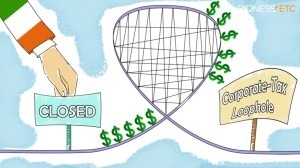 Ireland is notorious for offering a United States tax shelter called the "Double Irish" to large U.S. companies. The structure is similar to a tax shelter known as the "Dutch Sandwich." In essence there is a real company with real employees in Ireland. The profits from that company flow through to a second Irish company, though. The difference is that the second Irish company is based out of a tax haven in the Caribbean. This in effect helps the large U.S. companies complete an end-around and avoid paying substantial U.S. taxes.
While this structure has proved to be an effective source of revenue for Ireland and lured many large U.S. companies, times are changing. Based on heavy global pressure for proper tax treatment and transparency, Ireland is following in the steps of the Netherlands and Luxembourg. Ireland has publicly declared that it will slowly phasing out these tax shelters. While this is a big win for both the United States and the international community, large U.S. Companies like Google and LinkedIn will have to alter their tax saving strategy. This is part of larger conversation that needs to occur within the U.S. Congress. Several Senators have put forth legislation asking for laws to be passed that will capture the decision-making process of the CEOs as their companies are directly affected by these announcements.
About Five Stone Tax Advisers
Five Stone Tax Advisers has years of experience negotiating directly with the IRS to get the best possible outcome for you. Our International Tax Advisory and Compliance unit has a team of tax attorneys, certified public accountants and enrolled agents that form a single sourced point of contact that will provide services for all the legal, compliance and financial reconstruction aspects of these cases.
FOUND THIS USEFUL ? SHARE WITH